"Digital design is like painting, except the paint never dries
Neville Brody
Retika goes on to explain Digital designs can include content such as multimedia presentations, epub, pdf, social media, websites, email and web ads, digital billboards and digital signage and 2D animation.
Due to the wider skill set needed to produce these creative pieces, graphic designers like myself are specialising in digital design are comfortable with standard industry tools like, Illustrator, Photoshop, Indesign etc. and languages featured in digital assets HTML5, JavaScript, Ruby on Rails and CSS3. I am not a programmer but have some familiarity of code.
Digital designers are able to perform the same tasks as graphic designers. However, their knowledge and skills expand to include and focus on digital applications. Typical roles and responsibilities do not change for digital designers.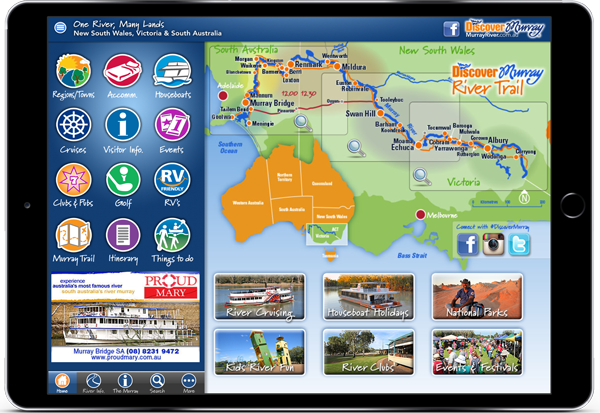 /Previously I've designed Apps for mobile and tablet. These included the Murray River app and TrackTime. Both apps served their purpose well however I've learnt that unless you have a good monetising platform Apps can be expensive to develop and maintain across all devices and operating systems. 
/Many of my designs can be converted to Digital flip books. The book above was created in Indesign > pdf > Flipbook HTML5. Flipbooks are a great way to digitise your communication piece. They do not include any interactive elements but allow viewers to enjoy the experience of your book for low cost. The fundamental is still the need to communicate well through design.
/The use of epubs or ebooks have grown in popularity. The benefit of these books means they should be able to be views on any device. You have the option of App, fixed layout or reflow layout epubs. I prefer fixed layout and can then design for the device in use. My range of Happee Trails epubs are walking guides, some with audio that allows users to enjoy the tour, not require ongoing download of data and self contained with interactive elements.
/Video is the best tool for communication in many situations. An effectively designing video that works well is paramount to covering all angles in production. Video marketing has proven constantly that it is one of the most powerful marketing tactics to date. It's effective in communicating messages is unparalleled. I use video marketing for a wide variety of needs. Training, education, promotions, entertainment, historical and more. How can you afford NOT to use video? More Video >
Digital content with
Zesty

eBooks
Zesty

Projects that create success