Man Lands on the Moon; Sesame Street; Monty Python's Flying Circus; Woodstock; The Internet; The Brady Bunch; The ATM; Tic Tacs; Easy Rider; The Concorde; Jennifer Anniston; Firebird; The Godfather; Abbey Road; Led Zepplin; Scooby Doo & 
Zesty Shane
1969 SS Camaro



The SS performance package consisted of a 350 cu in (5.7 L) or 396 cu in (6.5 L) V8s and chassis upgrades for better handling and to deal with the additional power. The 1969 Camaro carried over the previous year giving the car a substantially sportier look. The grille was redesigned with a heavy "V" cant and deeply inset headlights. New door skins, rear quarter panels, and rear valance panel also gave the car a much lower, wider, more aggressive look...more >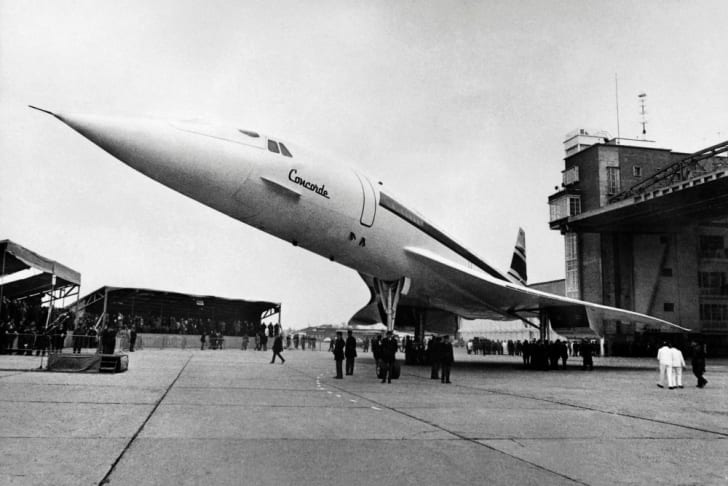 The Concorde



While the origins of the supersonic jet that came to be known as the Concorde began back in the 1950s, it wasn't until March 2, 1969, that the vessel—a.k.a. Concorde 001—made its maiden voyage. It would take another seven years for the plane to become a regular sight in the skies.
Population of Australia: 12,008,635
January – Nixon inaugurated as 37th president of the United States. "Counterinaugural" protest in Washington, D.C.
January – Bushfires across Victoria claim the lives of 23 people. About 280 fires in total burned 250,000 hectares, destroyed 230 homes and dozens of other buildings, killing 12,000 head of stock.
February – The Violet Town railway disaster: the passenger train Southern Aurora collides head-on with a freight train on the new Melbourne and razed to Sydney train line. Nine people are killed.
March – Musician John Lennon marries artist Yoko Ono.
March – 2000 Weeks (directed by Tim Burstall) is released. The film was one of the first features of the modern era in Australian cinema, although it was received poorly both critically and commercially.
March – Police procedural drama series Division 4 makes its debut on the Nine Network.
March – Graham Kennedy wins the Gold Logie for In Melbourne Tonight.
April – Carlton achieve the first double-century VFL score when they kick 30.30 (210) against Hawthorn, beating a previous record from 1931.
April – Sir Paul Hasluck becomes Governor-General of Australia after the retirement of Lord Casey.
May – The Age newspaper in Melbourne begins the process of moving from Collins Street to Spencer Street. The move is completed on 6 October.
May – An Australian production of the rock musical Hair opens in Sydney. Produced by Harry M. Miller, it features the debut of young American singer Marcia Hines.
May – Nixon orders troop withdrawal from Vietnam. Police storm People's Park in Berkeley, California; one student is killed as demonstrators are gassed and wounded.
June – Zesty Shane Strudwick born.
June – Melbourne-Evans collision – The Royal Australian Navy aircraft carrier HMAS Melbourne collides with the U.S. Navy destroyer USS Frank E. Evans in the South China Sea. Frank E. Evans is cut in half and sinks, killing 74 crew.
June – The Commonwealth Conciliation and Arbitration Commission rules that equal pay for women doing the same work as men must be phased in by 1972.
July – NASA switches the main transmission feed of the Apollo 11 moon landing to Honeysuckle Creek Tracking Station in Canberra, then Parkes Observatory in New South Wales, which then broadcasts the mission to the world.
July – Neil Armstrong and Buzz Aldrin walk on the moon during the Apollo 11 mission.
August – Woodstock festival rocks a farm in upstate New York for three days.
September – The Poseidon bubble begins when the small mining company Poseidon NL discovers a large nickel deposit in Laverton, Western Australia.
September – Richmond sets a new record VFL finals winning margin when it beats Geelong by 118 points. It is the first century winning margin in a finals match.
October – 1969 Australian federal election: John Gorton's Liberal/Country Coalition Government is narrowly re-elected with a sharply reduced majority, defeating a resurgent Labor Party led by Gough Whitlam.
October – Tennis player Rod Laver beats fellow Australian Tony Roche in the men's singles final of the U.S. Open, achieving his second Grand Slam (having also won the Australian Open, the French Open and Wimbledon in that year).
November – Rain Lover wins the Melbourne Cup.
November – A Liberal Party leadership spill is held, with Prime Minister Gorton re-elected as party leader over challengers William McMahon and David Fairbairn.
November – Prime Minister Gorton makes the most sweeping changes to the Federal Ministry since the Liberal-Country Party Coalition took office in 1949.
November – The rebuilding of the Indian Pacific rail line between Sydney and Perth to standard gauge is completed.
December – Prime Minister John Gorton announces that a withdrawal of Australian Army troops from the Vietnam War would begin in 1970.
Zesty Shane's other printed publications